Taking care of our hair during the summer is essential for our beauty.
During the summer season, between a sunbath, a drink on the beach, a swim in the sea or in the pool, it is easy to forget to take care of your hair. However, just during the summer season, it is even more important to pay proper attention to the hair: heat, ultraviolet rays, air conditioning, sea water as well as the chlorine of swimming pools can dehydrate even the most well-groomed hair, making it dry and brittle, especially if colored. For this reason, it is important to take some small precautions and use specific products that counteract the loss of hydration and the consequent dryness of the hair, as to show off a healthy and luminous hair even during summer season. Elodie Italia has created certified products of high profile to protect hair even under the sun: just a few simple steps, the "right" product and your hair will remain hydrated, healthy and shiny. Take a few minutes and sit down to find out how to take care of your hair. You won't be able to resist to our Gocce d'Estate summer line and the new 2019 kits. The first rule to follow to protect summer hair is to use the right products. Elodie Italia has created a summer line specifically designed for the different needs of its customers: high quality products suitable for all hair types.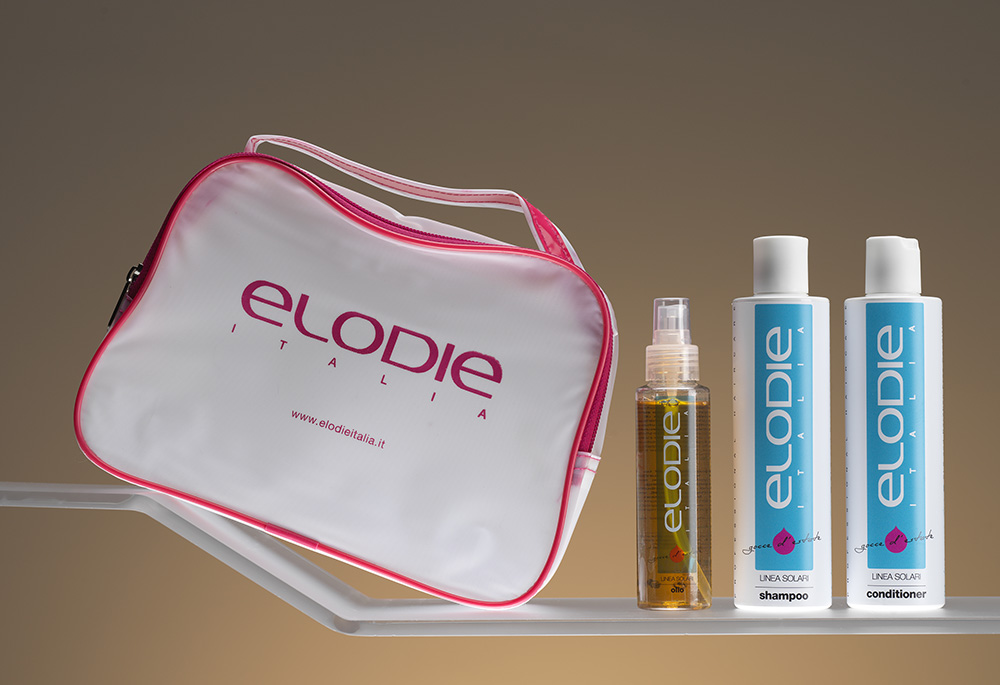 You won't be able to resist our Gocce d'Estate summer line and the new 2019 kits.
Gocce d'Estate shampoo and conditioner will be your allies throughout the season, contain antioxidant properties that moisturize and brighten hair as well as saying goodbye to dry ends and opaque stems. The precious active ingredients of wheat germ contained in the shampoo, matched with the combined strength of shea butter and jojoba oil contained in the conditioner, are the perfect nourishment for a shiny and healthy hair. Also ideal for frequent washing, they are available in two sizes of 250 ml and 100 ml. To complete the line, the Gocce d'Estate reparing oil based on argan and sweet almonds, designed to protect hair from sun, sea and wind and restore full health to your hair. It should be applied to dry hair before exposure. It dries immediately, leaving no residue and is available in its practical 100 ml package. You can buy Gocce d'Estate products either individually or combined in 3 fantastic kits, the real novelty of this 2019 summer season created by Elodie Italia to which it is impossible to resist.